Finding the Rainbow: the personal journey in the new SA
702 and CapeTalk host, Eusebius McKaiser and Professor Jackie Naudé had a conversation on how South African's can be assisted in reconciling with a broken past and attempt to rebuild from its horrid apartheid and colonial scars.
Naudé is an author and psychologist with an extensive background in facilitating transformation processes in numerous organisations.
Naudé believes that because South Africans do not have a shared or common understanding of their past, it then distorts the lenses in which the future is perceived.
We can't keep dismissing the history as it is part of who we are still. Apartheid is not dead. It was too systematic.

— Prof Jackie Naudé, Author and Psychologist
Naudé goes on to say it is a privilege for white South African to be oblivious to the atrocities suffered by black people at the hands of colonialism and apartheid.
People use selective reasoning when they debate and partake in discussion of race and privilege, explains Naudé.
Transformation is not about everybody else.

— Prof Jackie Naudé, Author and Psychologist
We don't want to hear each others' experiences. The only way people will change is if they open up themselves to having conversations with other people.

— Prof Jackie Naudé, Author and Psychologist
The current candid but gentle conversation about privilege, race &dealing with everyone's feelings on @Radio702 w/ @Eusebius is so necessary

— Serurubele (@Kano_Serurubele) November 14, 2017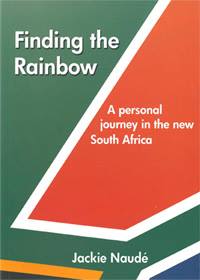 To order the book please visit the THCE Facebook page facebook.com/FindingTheRainbow or mail us at projects@thce.co.za
To hear more on 'Finding the Rainbow' click on audio clip below:
This article first appeared on 702 : Finding the Rainbow: the personal journey in the new SA