Emerging African Leaders: University of Cape Town
"I've come to realise that meaningful leadership isn't about power and position: that's leading from a position of slavery. Knowing who you are and working from that? That's true leadership."

— Ngosa Simachela, a Zambian lawyer and passionate community activist
Ngosa Simachela, a Zambian lawyer and passionate community activist. She was recently in Cape Town as part of the University of Cape Town's Emerging African Leaders Programme: a two week series of intensive workshops and individual coaching designed to incubate leadership skills and forge pan-African networks of support.
The Emerging African Leaders programme is an inspirational project run by UCT's Graduate School of Development Policy and Practice. It aims to gather outstanding emerging leaders from a broad variety of backgrounds and professional fields, using South African knowledge and the country's strong constitutional democratic structures to inspire ethical and accountable leadership.
This year, the cohort of twenty six participants represented six African countries and included leaders from legal, financial, communications, engineering and activist backgrounds across both government and civil society.
This diversity has typically proved a strength, providing interdisciplinary solutions to common problems.
"It's so refreshing to see the diversity of talent and experience this programme has pulled into one room."

— Papa Loum, a Senegalese finance professional and community youth activist.
As part of the programme, the fellows participate in intensive leadership training, a process facilitated by coach and award-winning author Maria Phalime. Periods of training were combined with leadership reflections from an inspirational series of speakers, which this year included former Cabinet Ministers Trevor Manual and Bantu Holomisa, former Justice Albie Sachs, activist Pregs Govender and Professor Achille Mbembe.
"We are fortunate to be in a position to tap into resources, both at a human and a skills level, that enable us to facilitate this remarkable process."

— Makda Tessema, a Ghanaian democracy and governance fellow at the African Union.
Dr. Marianne Camerer, Director of the GSDPP Building Bridges Programme which facilitates the programme, has nothing but praise for the 2017 cohort:
"We have been fortunate to once again host an outstanding group of emerging African leaders this year. Their ethical approach to leadership challenges, group camaraderie and depth of engagement was noticeable from the outset and sustained throughout. We could not have asked for a more engaged group: it should give us all much hope for pan-African collaboration into the future."

— Dr. Marianne Camerer, Director of the GSDPP Building Bridges Programme
For Tristan Görgens, acting director for Human Development in the Western Cape Government, the pan-African perspective helped to bring perspective on topical South African issues:
"I'm very interested in decolonising knowledge – it's a popular discussion in academic contexts right now, but I think it has to be a conversation that moves into very practical areas across society and after this programme I'm excited to start that journey."

— Tristan Görgens, acting director for Human Development in the Western Cape Government
The 2017 cohort may have departed from Cape Town on their own respective journeys home this weekend, but they share Görgens' enthusiasm for moving joint projects forward based on identifiable areas of overlap. One of these is the #WeAreAllMigrants campaign - a multimedia project that aims to personalise the issue of migration to combat the rising xenophobia experienced particularly in South Africa.
"I'm privileged to be part of this vibrant group who have a commitment to change the continent. Before this programme I was localised in Ethiopian concerns. Now I feel connected to Africa!"

— Zebib Tekle, a United Nations Economic Commission for Africa administrator and community activist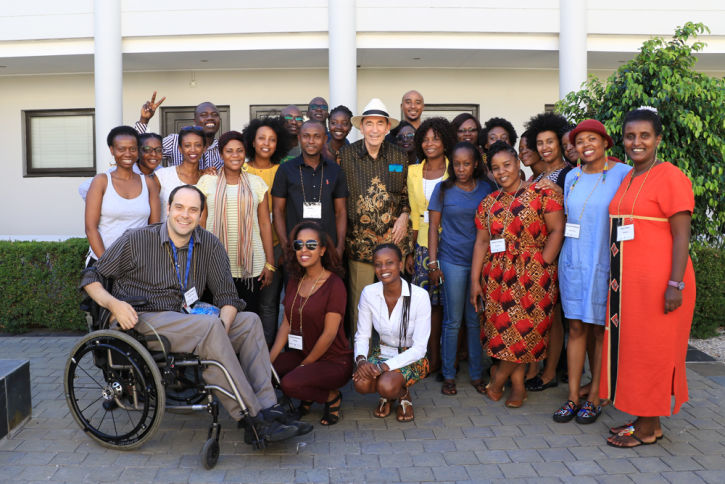 Ultimately, though, the leadership programme has already provided twenty six powerful personal journeys into ethical public leadership.
"When the letter of invitation came, my boss told me 'forget about that programme, Busi. They're just going to change you'...He was right – you have changed me. But in a way I am so grateful for!"

— Busisiwe Mtabane, South African Right2Know activist
_About the Graduate School of Development Policy and Practice (GSDPP)
The mission of the Graduate School of Development Policy and Practice (GSDPP), based at the University of Cape Town (UCT), is to promote and inspire strategic public leadership in Africa. As a multi-disciplinary centre, the School and its offerings are designed to make public service at the highest levels of leadership an aspiration for the most talented of the community's rising generation.
For more information visit the GSDPP website
Photo Credit: Liam Cornell