"There is an ocean between saying and doing" - Riaan Manser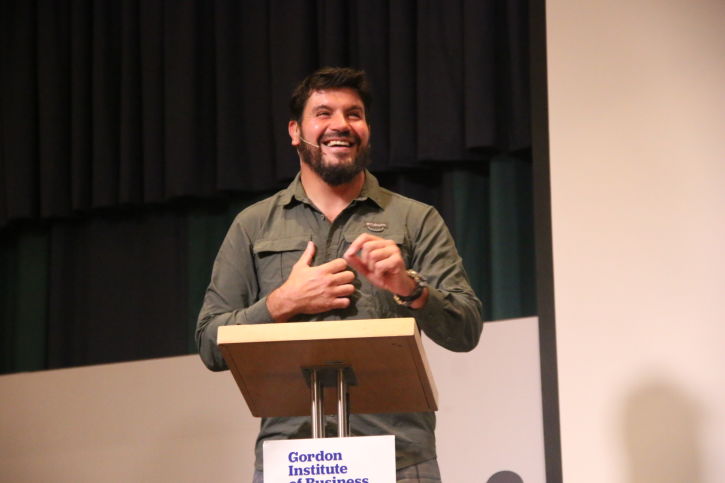 You'd think there wouldn't be too many firsts left to discover and explore, but Adventurer, Riaan Manser's tenacity and bravery has seen him conquering quite a few. He was the first to cycle around the entire perimeter of the African continent, pedaling a staggering 37,000km through 34 countries - a dangerous feat.
He didn't stop there, soon tackling another challenge by circumnavigating Madagascar and Iceland. Together with his wife, Vasti, Manser broke the world record for the fastest row in history when they took on the perilous journey from mainland Africa to mainland North America. Manser will soon conquer the wildest challenge of all - fatherhood!
Manser urged delegates to the third annual Lead SA Changemakers Conference to take away three things to reach their goals - courage, perseverance and the willingness to carry things through.
"There is an ocean between saying and doing."

— Riaan Manser
Manser related his time spent in African countries, regarded as some of the most dangerous in the world, during his adventures and some of the horrific experiences he's had witnessing atrocities committed against innocent people.
"I won't ever again let it roll like water off a duck's back when people say be grateful for what you have. We live in Hollywood Africa. "

— Riaan Manser
"I'm still in the beginning stage of my journey of change making."

— Riaan Manser
"The truth is we are all cowards...every single one of us - even you Mr Naidoo - are so guilty of something we have spoken about and spoken about... finding excuses for doing something you said is not good enough."

— Riaan Manser
"Are you going to carry on being a talker, or are you going to be a changemaker?"

— Riaan Manser
Watch Riaan's presentation at Changemakers below...
Join the #Changemakers17 conversation on Twitter.