Refugee, 12-year-old complete Robben Island swim for charity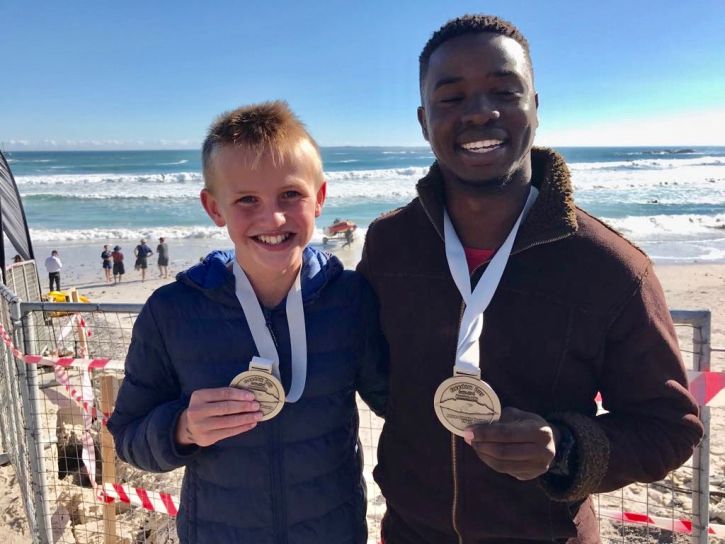 A Congolese refugee and 12-year-old boy teamed up to complete a swim to Robben Island to raise funds for charity.
The Freedom Day Swim took place on 21 April, which saw people around the world swim from Robben Island to Big Bay.
Grade 6 learner Gabriel Schreiber teamed up with 23-year-old Congolese refugee Arafat Gatabazi as his swim coach.
Their swim, dubbed the #StrokesForSpokes Challenge, raised funds for the Chaeli Campaign's Sport & Recreation Club. The organisation helps disabled children, especially young wheelchair users, from disadvantaged communities take part in activities they would usually not be able to enjoy.
"I'm doing this swim to raise awareness around children who are much less fortunate than me. I'm lucky to have a body that can do almost anything, and I want to remind people of those who can't move freely like most of us. Chaeli has inspired me by showing that disability can be turned into ability."

— Gabriel Schreiber, The #StrokesForSpokes Challenge
Schreiber was inspired to do the swim by Chaeli Mycroft's long record of ability activism. Her most recent campaign, Bet Chaeli Can't, saw Mycroft , who is a quadriplegic, complete a five-day horse-riding expedition.
After completing the swim to Robben Island, Schreiber has become the second youngest person to do this. Gatabazi and Schreiber achieved a time of 2 hours and 34 minutes.
The pair trained for several weeks to prepare for the cold waters and 7.5km swim. Since he left the Democratic Republic of Congo (DRC) five years ago, Gatabazi has completed the swim several times. He mentored and trained Schreiber so that he could complete the swim too.