R1million maths & science hub launched at Soweto school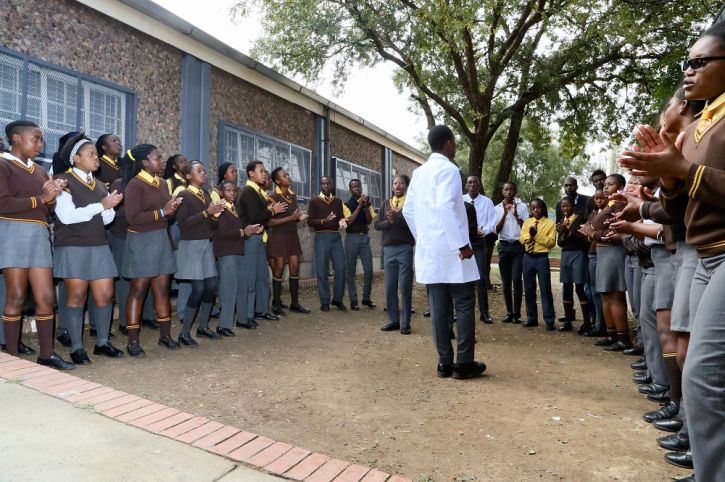 The Diepdale Seconday School choir sings at the launch of The Allianz Maths & Science Center
A Soweto school is now the location of a state-of-the-art maths and science center worth nearly R1-million.
Diepdale Secondary School saw the opening of The Allianz Maths & Science Center on 18 April thanks to a partnership between Allianz Global Corporate & Specialty (AGCS) and the SA Medical and Education Foundation (SAME).
"The Allianz Maths & Science Center promotes social inclusion of youth through innovation. Ultimately with this program, the parents will be more supportive, teachers will be better educators and learners will have their best chance of reaching their full potential."

— Thusang Mahlangu, CEO of AGCS Africa
The hub is equipped with maths, science and technology facilities so that high school learners can access resources and improve their knowledge on STEM subjects.
"We converted two classrooms into a modern science laboratory and an innovation center and we believe that learners from Diepdale Secondary and surrounding schools will benefit immensely from this program. Historically, academic performance has been low in this area and this facility will enable both learners and teachers to improve earning outcomes."

— Tyrone Pols, Project Manager at SAME
"The rooms are equipped with e-learning hardware such as projectors and software to facilitate e-learning methodology. This includes a high-quality camera, which will record lessons to be uploaded to a website for future reference."

— Tyrone Pols, Project Manager at SAME
"For maths, learners will receive dictionaries and parents and teachers will get guidance books to facilitate smooth learning, teaching and support in the subject. The science facility is equipped with science lab stations and kits."

— Tyrone Pols, Project Manager at SAME
Allianz also plans to introduce their My Finance Coach programme to help learners improve their personal money management skills. A variety of guest lessons, career days, mentorship and internship programmes and other activities will be provided by the company.
"Being from Soweto myself, I am thrilled to be involved in this initiative and I look forward to motivating the learners as I am able to relate to them. And with the help of other colleagues - some also from Soweto - we will be able to instill a lot more inspiration and have a lasting positive impact on the youth."

— Thusang Mahlangu, CEO of AGCS Africa