Stop Fake News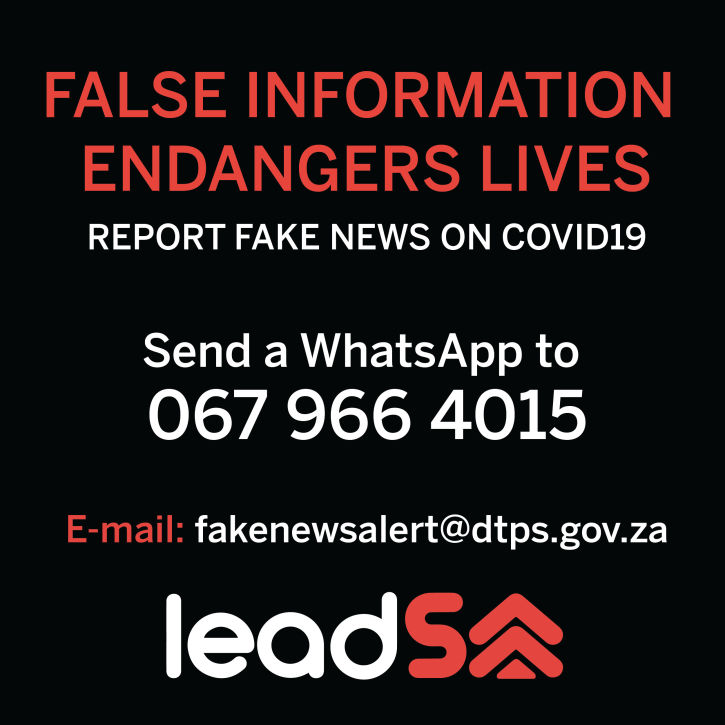 Anyone that creates or spreads fake news about the Coronavirus COVID-19 is liable for prosecution. Verify the information before you share information.
Any publication designed to deceive people is prohibited – and by "any" it means just that: via SMS, WhatsApp, Twitter, Facebook, online videos, other messaging and networking platforms.
Viral misinformation and fake news pose the biggest risk for the spread of the corona virus in South Africa. If not attended to, fake news and misinformation will lead to loss of lives.
The public is advised to simply stay away from publishing, forwarding or creating fake news and misinformation about the corona virus, and that includes even being careful of reckless jokes disseminated within their social groups.
If the information or communication transmitted has no endorsement by the government, treat it with caution.
The punishment for fake news and misinformation is a fine, which has yet to be determined, or a prison term of up to six months – or both.
To report fake news on COVID19:
Send a WhatsApp to 067 966 4015 or e-mail fakenewsalert@dtps.gov.za
LeadSATogether #FlattenTheCurve #COVID19SA #21DayLockDownSA #LockDownSA