#Changemakers2018: I don't like talking about myself, but I need to - Ray Zondo
At the 4th Annual Lead SA Changemakers conference, keynote speaker, Deputy Chief Justice of South Africa Raymond Zondo took the stage to chat about the influential people in his life, and the struggles he faced growing up.
Zondo admits that he doesn't like talking about himself, but feels he needs to.
I grew up in KwaZulu Natal with my mother and nine siblings he says.
Zondo says that his mother raised him single-handedly because his father was working in the mines.
After my father passed away, my uncle took my mother as his wife, and took us as his children he says.
Zondo adds that in the Zulu culture, if a woman loses her husband, the brother can become the father of the children and the husband of the wife.
My uncle did not take care of us says Zondo.
It's fair to say that my mother raised all nine of us single-handedly he adds.
My mother is a resilient and special women. She contributed to the man that I am today.

— Judge Raymond Zondo, Deputy Chief Justice of South Africa
It's important to start at the beginning says Zondo.
He adds that in the village, many households suffered the kind of poverty that's hard to fathom.
Our family would have been counted as one of the poorest in the village.

— Judge Raymond Zondo, Deputy Chief Justice of South Africa
Zondo says that sometimes there wasn't enough food.
My mother would ensure that we ate before she did he adds.
Zondo says that his mother was very passionate about education.
She wanted each and every one of us to get the education adds Zondo.
I strongly agree with Xolani Gwala, you are the man you are because of the boy you were he says.
I'm glad I was able to hear Xolani's full story because it is an amazing story.

— Judge Raymond Zondo, Deputy Chief Justice of South Africa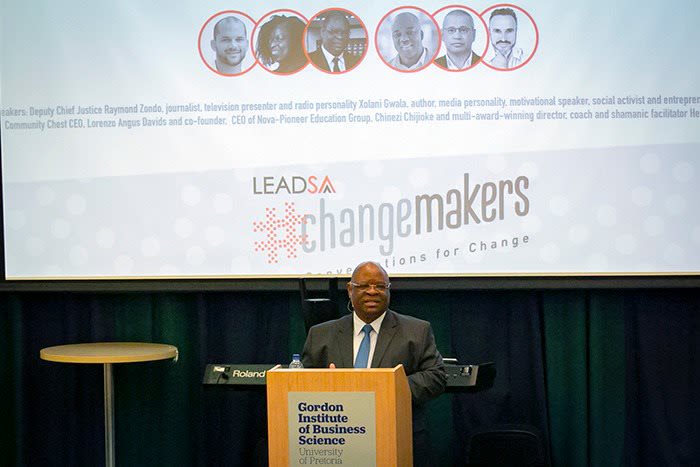 [WATCH] Lead SA #Changemakers2018 kicks off at GIBS, Illovo