Local mechanic bags Hero Of The Year award as he helps uplift students
Social entrepreneur and LeadSA Hero Isaac Boshomane is swamped with new student applications after summitting as the National Hero Of The Year 2018, powered by Stratum Cares at the Changemakers conference.
Isaac was awarded a cash prize of R45 000 courtesy of Stratum Cares towards the expansion of Kgabo Cars apprenticeship project which empowers students who only have theoretical qualifications.
The community of Soshanguve have also heed our call to service their cars at our workshop, which will bring a boost to the business and motivate the students

— Isaac Boshomane, Kgabo Cars founder
The conference took place in the West of Johannesburg at the Gibs business school in Illovo.
Isaac Boshomane's accumulative success continued to blossom when he was recognized as the LeadSA Hero for March 2018, for his youth development program that has produced over 60 qualified mechanics.
His workshop has provided practical skills that allowed the students to gain national qualifications. He turned his auto mechanic workshop into a training centre to train youth.
The main aim of his workshop has been to tackle unemployment and direct young people to positive causes. The participants in the programs have gained practical experience and successfully done their trade tests.
From starting off with just a few students in Shoshanguve, Boshomane now collaborates with local Technical High Schools to impart practical knowledge.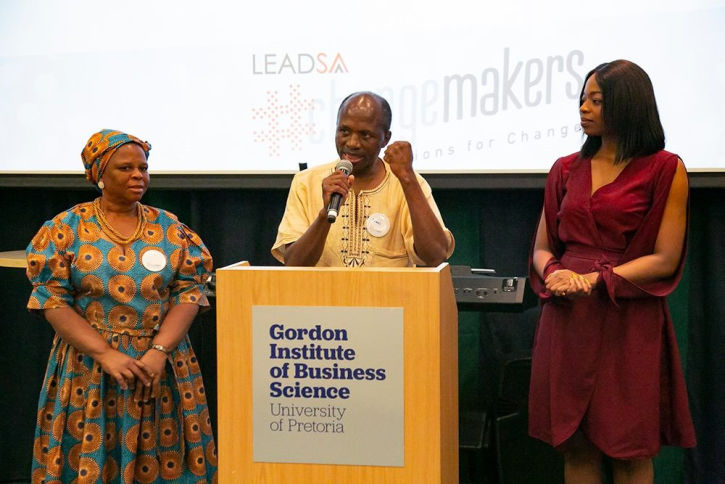 It gives me more responsibility to go and get more young people and say it can be done and South Africa is full of opportunities. And if it is to be it is up to us. When things are tough you need those people that will remind you that you will get out of that those tough times.

— Isaac Boshomane, Kgabo Cars founder
Watch the full speech of Isaac Boshomane below: